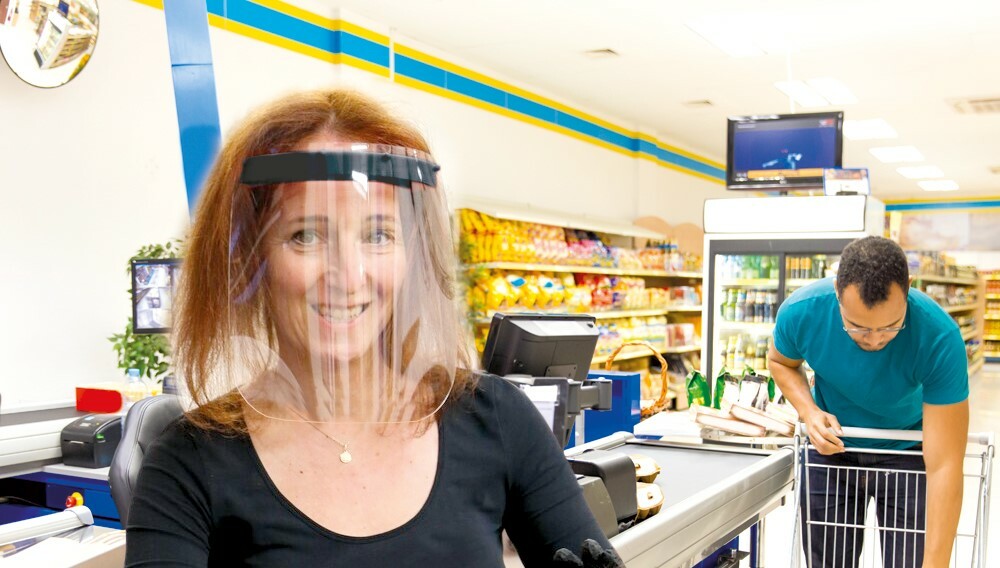 Our protective visors are high quality, easy to clean and disinfect. Perfect for those who wear glasses and who use hearing aids.
Due to the current COVID-19 situation, we have decided to develop a new face protection. Our visors are designed for repeated use and are therefore a far more environmentally friendly variant than disposable face protection.
Highest quality standards
The materials used come mainly from medical technology.
Faceshield ECO
Shield approx. 240 x 240 mm
Extremely light for high wearing comfort (117 g)
Faceshield Premium 
Sign approx. 395 x 240 mm
Extremely light for high wearing comfort (90 to 120 g)
better all-round protection
Faceshield Premium children
Shield approx. 395 x 175 mm
Extremely light for high wearing comfort (65 g with 0.5 mm film and approx. 80 g with 0.7 mm film)
• Visor made of high quality PET-G film
• Can be used in the medical field (0.5 to 1mm)
• reusable
• Unrestricted cleaning with disinfectants and soapy water is possible
• exchangeable = protects the environment
• recyclable
• made of high quality plastic (PET-G, POM or PP)
• ergonomic design

• (20-25mm) interchangeable and easily available
• Comfort without pressure points
• secure hold